THE 2022 PENN STATE FOOTBALL PREVIEW ISSUE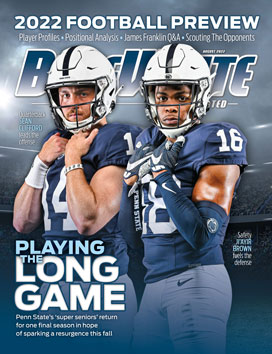 Coming Soon!
Preorder before 7/7/22 for fastest delivery!

Blue White Illustrated's 116-page magazine is a comprehensive guide to the Nittany Lions' upcoming season, packed with exclusive interviews, features, opinions and analysis. This year's season preview includes:
One-on-one interviews with head coach James Franklin and coordinators
Feature stories on key players
Staff predictions, columns and position-by-position breakdowns of what to expect this fall
A recap of Penn State's early-summer recruiting efforts and a look ahead at the team's remaining needs as it works to complete the Class of 2023
116 full-color pages
CURRENT SUBSCRIBERS:
This issue is already part of your regular magazine subscription. Please do not order here unless you want additional copies!
Only $9.95
Free Shipping
*Sales tax may apply in select areas